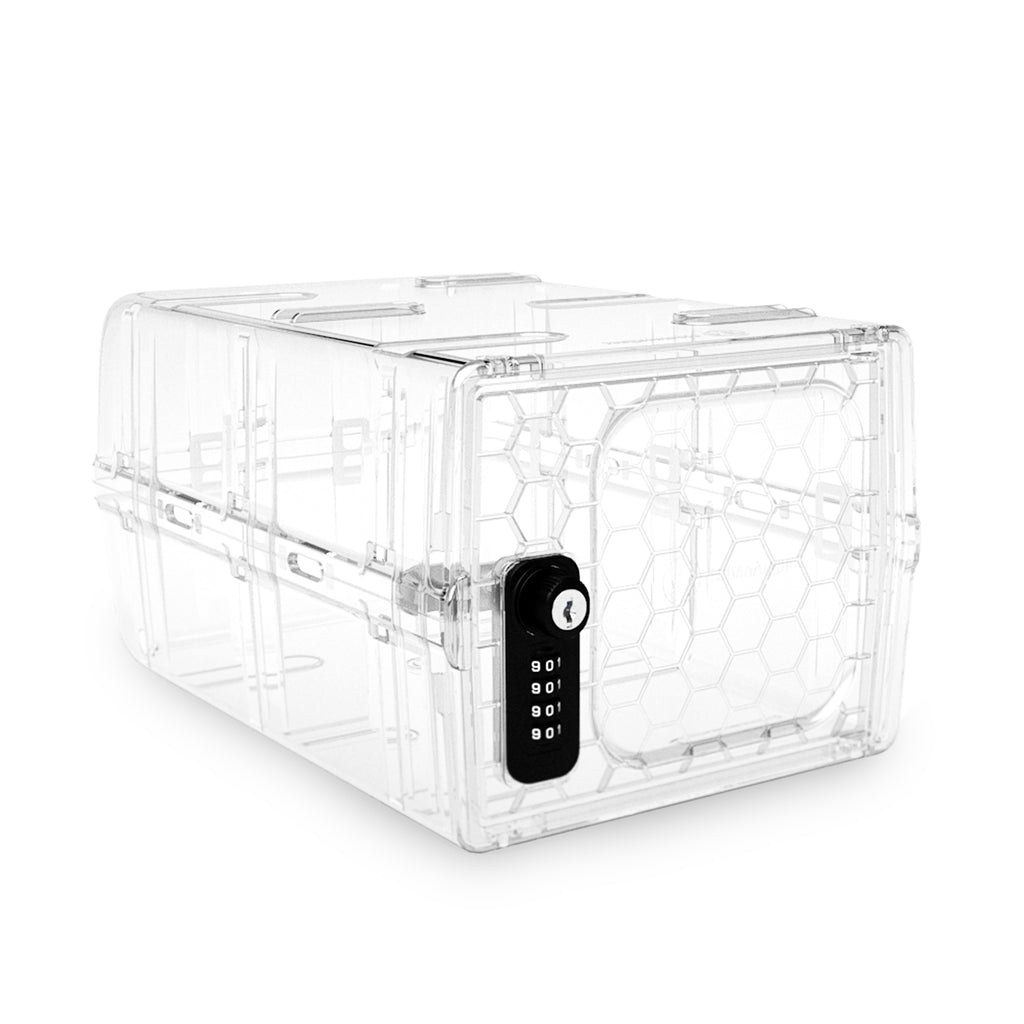 Why the Urban August Lockbox is the ultimate Fridge Locker!
Our patent-pending locking box is everything one might need in a home lock box. It is solid, lightweight, and designed for many many uses. There are several reasons why one would need a lockbox for their refrigerator, ranging from silly to serious. However, we took all factors in mind while designing our lockbox.
Click HERE to learn more about our lockbox.
Top Reasons why anyone would need a refrigerator lockbox:
A lockbox for a refrigerator can be useful in shared living spaces, workplaces, or medical facilities.
A locking box for a fridge can be used for sensitive individuals who should not access certain consumables for health reasons. (how Urban August started)
It can limit access to certain food items or beverages, providing a secure space for each individual to store their own items.
In a workplace, it can be used to secure valuable or sensitive items such as medications, samples, or perishable items that require special handling. It can also prevent a coworker from stealing your lunch.
In a medical facility, it can be used to secure medication or vaccines that need to be stored at specific temperatures and require controlled access to prevent unauthorized handling or administration.
For each of these four categories of why one would need a lockbox, there are many sub-categories. Urban August's origin falls under the second bullet point. Read more about that story Here 
To get back to the title of the article- why the Urban August Fridge lockbox is the ultimate fridge locker. We went to great lengths to investigate every avenue.
 Urban August is the maker of the original fridge lock. Talking to customers every day- we would always ask "what products do you think you need the most?" The most common answer was – you guessed it- a fridge & pantry lockbox. However, by that point we had long researched this idea and even had a rough-draft modeled. (Yes, it was very rough).
Our first prototype! 
With hundreds and hundreds of pieces of customer feedback- we kept all of this in mind.
We also had many years to think about how we wanted to design our lockbox, as the founder grew up with a younger brother with developmental disabilities. Please read about there here- My Brother's Struggle
Design:

Given all the customer feedback, we did our best to accommodate everything into the design. A top-quality lock, polycarbonate plastic, appropriate sizing, light weight, reinforced connection points, and a stylish look.
We hired the best design engineer that we could find- based in Milan, Italy, our engineer has extensive experience designing car parts and very complex machinery.  
We included stacking notches, ventilation holes (or charging ports), tether holes in the back, a door stopper, a sleek and smooth exterior, a reinforced connection points, patent-pending interconnecting support ribs, and a very solid lock (see below).

Materials:

We held nothing back in sourcing materials. We went high-end and used polycarbonate, also known as Lexan. Polycarbonate is amongst the most expensive, durable and lightest plastics commercially available. It is difficult to shatter and is extremely crack resistant.
Polycarbonate is used heavily in industrial, medical and even military applications.
Most of our competitors use polypropylene (PP) plastics to make their lockboxes- this is extremely cheap, easy to bend, and isn't resistant to tampering. The best example of PP usage are cheap flimsy plastic takeout containers from restaurants. Our competitors' boxes use the same plastic, but slightly thicker- would you really trust that with your childs safety? In short, many of our competitors boxes are not secure and should not be trusted.
Lock

We are proud to use a four-digit combination lock WITH a key option. All of our competitors use a three-digit lock, and no key option. A three-digit combination lock is quite easy to crack. Anyone who is not a toddler should be able to crack this lock in 15 minutes just by trying all available combinations. Furthermore, if the combination part breaks or if you lose your combination, you are out of luck.
With a keyed/combination four-digit lock, it is very difficult to crack, and you always have a backup in case you lose your key or combination.
Please note that replacement keys are available for purchase- please send us an email at help@urbanaugust.com for more details.
We also wanted to get the size perfect- the internal dimensions are 11.5' x 7.75' x 6'. We literally measured the insides of 50+ American refrigerators and freezers to get the size just right. We took depth and shelf space into account. We did our best to fit most common American refrigerators- although we can't promise that we can fit every refrigerator, or every item you want to lock up. A common question is whether the lockbox will fit kitchen knives. The answer is that it depends on the knife- it can't be over 11' long.
Another frequent comment was people needed a lockbox for alcohol. So we certainly designed our box so you can safety lock up a six pack of standard beer bottles.
Tether Cable

We do offer a metal cable & lock for sale to complement your lockbox. The reason behind this is simple- it's a small and light lockbox; why couldn't someone just take the box? Through the cable, now you can tether your lock box to something stationary. Just thread it through any of the four ventilation holes, or four locking holes on the backside, and lock it. For a refrigerator, it is recommended to tether your box to the back-end shelving rack.
So far we've outlined all the positives of Urban August's box with lock. However, there are a few aspects that our customers have not appreciated.
"Its not truly break-proof."

This is true. Our lockbox can succumb to a brute-force attack. Its plastic is cutting-edge, but its joints are not break-proof. That is why we designed our box for low to medium priority safekeeping. Food, books, some electronics, paperwork, toys etc. Our lockbox should never be used to protect high-value or very dangerous items, such as firearms.

"A lockbox made of plastic? Why don't I just buy a metal safe?"

Fact- most metal safes at around the same price point are actually made with very cheap material. These safes are also equally vulnerable to brute-force attacks. Oh- and the weight. Try putting any metal safe in your fridge. Also try opening the locking box in the fridge- no metal safe is made for that.  
Most importantly, our lockbox is not meant to be 'bullet-proof.' It is an around medium-security that fits all the requirements from our target customers- the right size, weight and security features.
Overall, a lockbox for a refrigerator can provide an added layer of security and privacy in situations where it is necessary to restrict access to the contents of the refrigerator. If there is a similar product, or something else you would like to see- let us know. Our relationship with our customer is our lifeblood.